Here we have a sesh with Shane of Tridant Glass
In 2003 Tridant glass was started.  We have a sit down with Shane to fill us in on the greatness that makes up Tridant!  Make sure to hit them up on their Instagram at TridantGlass.
In 2003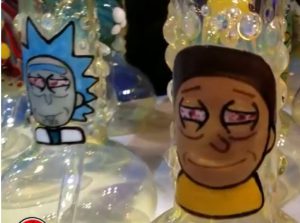 Tridan was started in Eugen Oregan.  After the operation pipe dreams (yall youngins may not even know about or remember) Tridant glass was started as blowers needed a home to work out of.  Still rocking as they did 15 years ago.  This is the area that most all glass started in the pipe industry in the USA.
Tridant is known for the amazing drawn work and the amazing sculptured work they produce.  Some of their top products are the new Rick and Morty and also all their animals.  Come on, we all love animals being an animal!  Most of their work is inspired by nature and customers asking for things that have never been done before.  YOU are the inspiration for Tridant glass, and that we love!  They love to keep improving their artwork.
Not only can you get one of these, but once you get one, they tend to become an addiction, you will find yourself getting more.  Their art can be found all over the country and if you need help finding a local dealer, hit them up, they can guide you.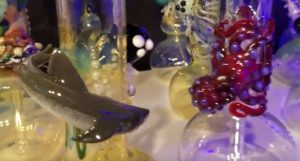 Some of the difficulties they find in their passage of life are the old school foreign competition.  One thing you can count on when buying glass made in the USA is that you are supporting America.  Starting with just raw materials and paying artists a decent working wage there is no way to compete with that China craze.    Knowing the competition out there Tridant has learned to focus on the qualtiy glass that is unique.
Tridant is dropping their new line of UV glass.  Not only does it pop under UV light, but it is super dope in regular light.
Aleins are real if you ask Shane, and you know we agree with him!